Glass beads J

Product explanations
This is made of spherical glass particles that are mainly made of SiO2, which is suited for a satin surface finish, scale removal, and small-sized burr removal.

*Unit of particle size for abrasives: The unit of particle size for the abrasive is currently not uniform. Therefore, be careful that the unit depends on the abrasive type.
*Picture color and actual color may differ depending on the particle size.
*The Mohs hardness has 10 scales.
Product details
hardness: Mohs

5.5
Minimum order quantity(kg)

20kg
package

Bag

Page number : abr9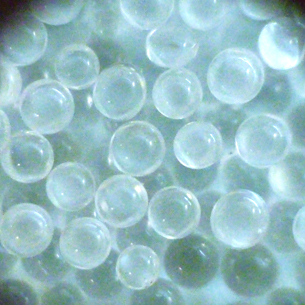 Related products
Page number : abr9
| | | | | | |
| --- | --- | --- | --- | --- | --- |
| Nominal number | 30 | 36 | 46 | 54 | 60 |
| particle size(μm) | 500~710μm | 425~600μm | 300~425μm | 250~355μm | 212~300μm |
| | | | | | |
| --- | --- | --- | --- | --- | --- |
| Nominal number | 70 | 80 | 90 | 100 | 120 |
| particle size(μm) | 180~250μm | 150~212μm | 125~180μm | 106~150μm | 90~125μm |
| | | | | | |
| --- | --- | --- | --- | --- | --- |
| Nominal number | 150 | 180 | 220 | 320 | 400 |
| particle size(μm) | 63~106μm | 53~90μm | 45~75μm | 38~75μm | lower than 45μm |
| | |
| --- | --- |
| Nominal number | 800 |
| particle size(μm) | lower than 38μm |