Corn / walnut / peach / apricot

Product explanations
This is made of ground ear cores of corn, walnuts, or peach seeds and features durability and elasticity. Moreover, this soft abrasive permits grinding and polishing without impairing or oxidizing the target work.
Caution: The nominal number may change, and some products may become unavailable without notice.


*Unit of particle size for abrasives: The unit of particle size for the abrasive is currently not uniform. Therefore, be careful that the unit depends on the abrasive type.
*Picture color and actual color may differ depending on the particle size.
*The Mohs hardness has 10 scales.
Product details
hardness: Mohs

appro x .Hv2.5~3.0
Minimum order quantity(kg)

20kg
package

Bag

Page number : abr16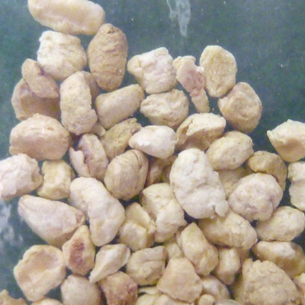 Related products
Page number : abr16
| | | | | | |
| --- | --- | --- | --- | --- | --- |
| Nominal number | 5 | 8 | 10 | 12 | 14 |
| particle size(μm) | 3300~4760μm | 2200~2380μm | 1680~2380μm | 1410~2000μm | 1190~1680μm |
| | | | | | |
| --- | --- | --- | --- | --- | --- |
| Nominal number | 16 | 20 | 24 | 34 | 36 |
| particle size(μm) | 1000~1410μm | 840~1190μm | 590~840μm | 500~710μm | 420~590μm |
| | | | | | |
| --- | --- | --- | --- | --- | --- |
| Nominal number | 46 | 60 | 80 | 100 | 180 |
| particle size(μm) | 297~420μm | 210~297μm | 149~210μm | 105~149μm | ~125μm |