Green silicon carbide GC/Black silicon carbide C

Product explanations
This is crushed and size-selected ingot made of carbon materials and silicon stones through heat reaction with an electric furnace. The applications are the same as those of alumina but this abrasive features harder and stronger abrasiveness.


*Unit of particle size for abrasives: The unit of particle size for the abrasive is currently not uniform. Therefore, be careful that the unit depends on the abrasive type.
*Picture color and actual color may differ depending on the particle size.
*The Mohs hardness has 10 scales.
Product details
hardness: Mohs

appro x 9.0
Minimum order quantity(kg)

20kg
package

Bag

Page number : abr21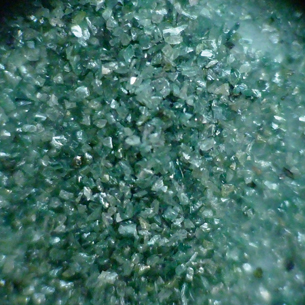 Related products
Page number : abr21
| | | | | | |
| --- | --- | --- | --- | --- | --- |
| Nominal number | 14 | 16 | 20 | 24 | 30 |
| particle size(μm) | 1180~1700μm | 1000~1400μm | 850~1180μm | 600~850μm | 500~710μm |
| | | | | | |
| --- | --- | --- | --- | --- | --- |
| Nominal number | 36 | 46 | 54 | 60 | 80 |
| particle size(μm) | 425~600μm | 300~425μm | 250~355μm | 212~300μm | 150~212μm |
| | | | | | |
| --- | --- | --- | --- | --- | --- |
| Nominal number | 90 | 100 | 120 | 150 | 180 |
| particle size(μm) | 125~180μm | 106~150μm | 90~125μm | 63~106μm | 53~90μm |
| | | | | | |
| --- | --- | --- | --- | --- | --- |
| Nominal number | 220 | 240 | 280 | 320 | 360 |
| particle size(μm) | 45~75μm | 40~103μm | 33~87μm | 27~74μm | 23~66μm |
| | | | | | |
| --- | --- | --- | --- | --- | --- |
| Nominal number | 400 | 500 | 600 | 700 | 800 |
| particle size(μm) | 20~58μm | 16~50μm | 13~43μm | 11~37μm | 9~31μm |
| | | | | | |
| --- | --- | --- | --- | --- | --- |
| Nominal number | 1000 | 1200 | 1500 | 2000 | 2500 |
| particle size(μm) | 7~27μm | 5.5~23μm | 4.5~20μm | 4~17μm | 3~14μm |
| | | |
| --- | --- | --- |
| Nominal number | 3000 | 4000 |
| particle size(μm) | 2~11μm | 1.3~8μm |