Steel Grid

Product explanations
This is made of polygonal particles and features high grinding and cleaning ability, which is suited for pretreatment for paint and coatings, removal of rust, scales, and burrs. There are cast iron and cast steel grids.

*Unit of particle size for abrasives: The unit of particle size for the abrasive is currently not uniform. Therefore, be careful that the unit depends on the abrasive type.
*Picture color and actual color may differ depending on the particle size.
Product details
Hardness: Hv

appro x .Hv400~950
Minimum order quantity(kg)

25kg
package

Bag

Page number : abr2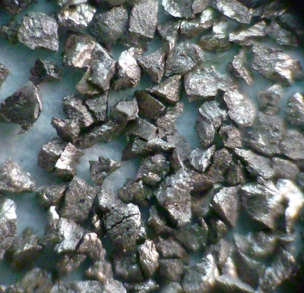 Related products
Page number : abr2
| | | | | | |
| --- | --- | --- | --- | --- | --- |
| Nominal number | G20 | G30 | G50 | G70 | G100 |
| particle size(μm) | 125~300μm | 180~425μm | 300~710μm | 425~1000μm | 710~1180μm |
| | | | | | |
| --- | --- | --- | --- | --- | --- |
| Nominal number | G120 | G140 | G170 | G200 | G240 *Cast steel only |
| particle size(μm) | 1000~1400μm | 1180~1700μm | 1400~2000μm | 1700~2360μm | 2000~2800μm |