Polycarbonate shot

Product explanations
The shape of the abrasive is cylindrical and uniform. This abrasive is suited for deburring resin, rubber, lead frames, die casting and non-metal products, or stain removal.

*Unit of particle size for abrasives: The unit of particle size for the abrasive is currently not uniform. Therefore, be careful that the unit depends on the abrasive type.
*Picture color and actual color may differ depending on the particle size.
*The Mohs hardness has 10 scales.
Product details
hardness: Mohs

appro x 2.0~3.0
Minimum order quantity(kg)

20kg or 25kg
package

Bag

Page number : abr27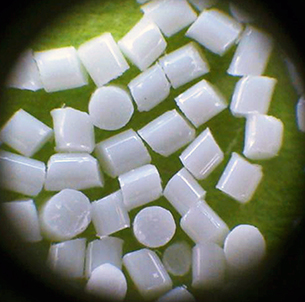 Related products
Page number : abr27
| | | | |
| --- | --- | --- | --- |
| Nominal number | 0.5mm | 0.8mm | 1.2mm |
| Average particle size(μm) | 500μm | 800μm | 1200μm |