FHF-16SN(Hanger type)

Product explanations
Workpieces are hung on overhead rail and continuously blasted. Blasting is evenly done as the workpieces are rotated with hangers. Processes of loading/unloading, blasting and air blow are done simultaneously in each chamber. Different types of transher such as straight type, rotating type and U-turn type are available.

Products suspended on the hanger are blasted while rotating. The blasting chamber consists of one room (FHF-16, FHF-200),two rooms(HBF-100),or four rooms (HBF-64X, HBF-153X). Machines with two or more rooms are appropriate for continuous operations because the next product can be attached or detached during blasting. Low-priced machines for zinc shot with a simple lining are available. On the other hand, machines for die castings with sufficient safety measures for magnesium and aluminum are also rich in variety.
Option Trommel-type separator, inverter, etc.

Hanger type series
HDF,SHF,HBF,FHF,HBPF-100,ZHDF-225Y,HUF-600 etc.


Product details
Model

FHF-16SN
Cabinet size

W1120mm x L1180mm x H2700mm
Max. weight of product(s)

30kg
Product effective range

400mm x H500mm
Dust collector

NBF-1 10㎥/min
Purpose

Removal of burrs and stainfinish for die casting.

Page number : sb54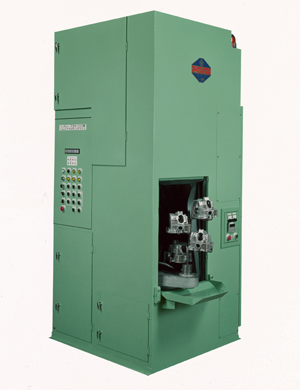 Related products
We provide variety of machines for your needs. Please do not hesitate asking us.
Page number : sb54