HBNF-155(Index Hanger type)

Product explanations
Some individual chambers are provided like a revolving door. Loading/unloading of workpiece can be done simultaneously during blasting another piece at another chamber, so this type of machine is good for continuous operation. Number and size of chamber can be determined by required cycle time and contour of workpiece. Single chamber type of machine, FSH-16SN, can be used for blasting worlpiece both hung or placed on table. Since loading and unloading are done at the same position, the machine does not require wide area for operaton. Unmanned operation is possible with loading/unloading robot.
Product details
Model

HBNF-155
Cabinet size

W1980 x L2680 x H4020
Max. weight of product(s)

30kg
Product effective range

W400 x H600
Dust collector

NBF-2HE 20㎥/min
Application

Remove,Scrape,peel
Purpose

Removal of burrs and stainfinish for die casting.

Page number : sb62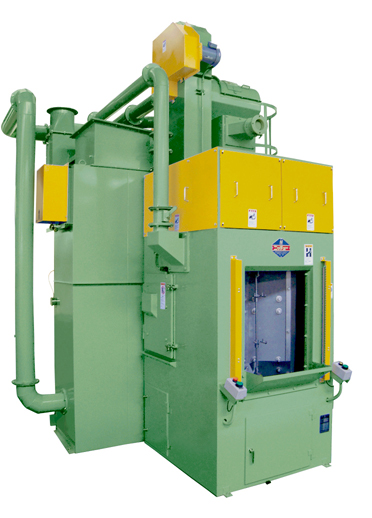 Related products
We provide variety of machines for your needs. Please do not hesitate asking us.
Page number : sb62