FTF-0P(Tumbler type)

Product explanations
Good for batch operation. Blasting is done while workpieces roll on the rubber-make endless belt. Once blasting is finished, workpieces are unloaded by reverse rotation of the belt. Since the belt of P-model is inclined downward when unloaded, even round and small workpices are completely unloaded. Other than fully automated type (patented), semi-automated type with manual door or manual loading is also avilable. Different models are available for various kinds of workpieces.

Automatic loading/unloading function is available as an option. The P model provides full unloading via descent of the front roller (patented). An integrated dust collector on the back of the machine requires little space. For blasting of products that produce dust, a separate dust collector can be connected.

*Only the NTF-1 type has no integrated dust collector. The high chrome steel lining a standard specification. However, low-priced machines specialized only for zinc shot with a simple lining are also available.
Option: Trommel-type separator, inverter vertical slide door


Tumbling type series
NTSF-153LA,NTB-S,NTF-0,FST-0,NTF-1,TF-77,NTF-100LA,AMTB-25
Product details
Model

FTF-0P
Cabinet size

W930mm x L1270mm x H2300mm
Max. weight of product(s)

25L
Max. weight of product(s)

60kg
Dimensions of a barrel

φ400 x 470L
Dust collector

Conbined unit
Application

Remove,Scrape,peel
Application

Stain finish
Purpose

Peeling of painting, Coating paint processing, Roughing of surface, Peening.

Page number : sb50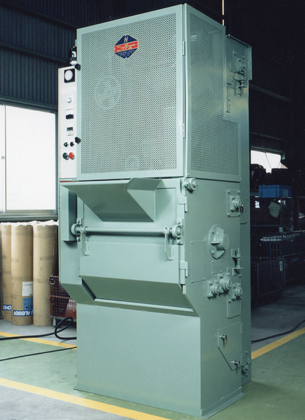 Related products
We provide variety of machines for your needs. Please do not hesitate asking us.
Page number : sb50