Table type with a dolly AMD-8

Product explanations
[Standard specifications]
Suction type (direct pressure type is separately available.)
Ceramic nozzle: Ф6㎜ or larger
This is suited for blasting heavy products. A swing table type is also available for heavy products. The machine can be an automated by attaching a self-propelled dolly, a timer, and vibration nozzles as options. For some types, a robot operates the nozzles.

Good for heavy products. Swivel table makes even blasting possible. Table is swiveled manually or electrically as desired. Operation can be automated with optional devices. Among series of models, the best one may be chosen depending on the type of product. (DMD : direct pressure type)

Table type with a dolly series
AMD-8,AMD-10,AMD-12,AMD-15
■ Option
An automatic machine is available for locating a timer, system for shaking nozzles and self-propelled dolly.
Product details
Model

AMD-8
Cabinet size

W800 x L800 x H1840
Dust collector

Conbined unit
Dimensions of dolly table

φ600

Page number : ab27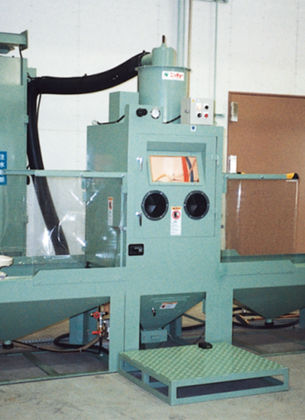 Related products
We provide variety of machines for your needs. Please do not hesitate asking us.
Page number : ab27