ABF-150(For LP tank seamless tanks only)

Product explanations
The model is designed for paint peeling of tanks. Blasting is done while tanks are rotated and transferred by rollers placed on LH and RH side with different angles. Loading equipment as option is available if necessary. Hanger type is also available. Different models can be proposed depending on different volumes and different sizes of tanks.

This blasting for peening paint on tanks is widely used in countries around the world including Japan. Tanks are rotated and transferred by rollers, and the peeling of paint is processed in the blasting chamber. (LP tank: 20 to 50 kg, seamless tank: short to long size) Machines specalized for bottom, internal surfaces, or hanging are also available.
■ Option
Automatic loading/unloading function
Product details
Model

ABF-150
Dust collector

NBF-3B 30㎥/min
Purpose

Peeling of painting, Rust removal, Adhesion of paint coatings,

Page number : sb57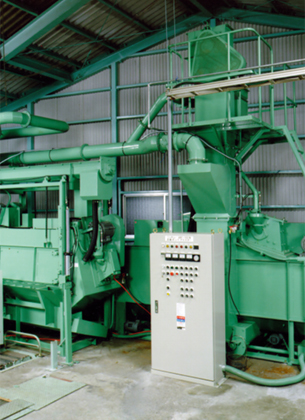 Related products
We provide variety of machines for your needs. Please do not hesitate asking us.
Page number : sb57